I am not a huge fan of making rules but without a few rules there would be anarchy (and not the sons of anarchy either) so I will keep this short and sweet!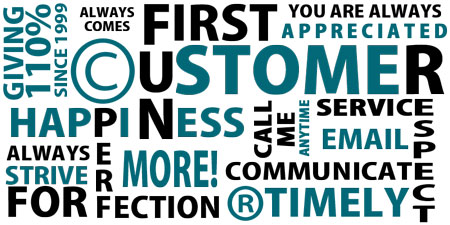 1)  Happiness: If you aren't happy you should be and I will do everything in my power to make you that way! (sadly I cannot prescribe mood-altering drugs so I have to rely on my design abilities to do the job.)
2) Communication is KEY: Don't be afraid to say "I don't like that" to me. While I appreciate praise I prefer productivity. If I don't know what you like / hate then I can't make you happy and that is my number 1 priority! With that being said – positive feedback is always welcome – so feel free to say something like "I don't like the font but I love the color". This type of feedback gives me a better feel for what you want.
3) Turnover Time: This depends greatly on you. If your response time is minimal then the job will get done quickly. However, if you need time to process the design concepts or changes then the job will take a little longer. It is my goal to get every job done quickly and efficiently without sacrificing quality.
4)   Copyrights:  The logos, graphics, and text you find on the pages of this website are all copyrighted by me or their respective owners and cannot be used in whole or in part for any reason.  (WHEW!  that was a mouth full wasn't it?!)  Long story short –  PLEASE DO NOT COPY  – Thank you!    Also out of respect for artists the world over I cannot use copyrighted graphics or images that have been "found on google" in your website design or your logo designs.  If you have seen something that you like you can share it with me for a point of reference but I cannot copy another artist's work.
5) Usage: I retain the right to display anything that I create as a sample of my work. If you really do not want me to display your logo, website, etc. on my pages I am sure we can work it out however it's FREE ADVERTISING!
6)    Payments:  I accept Paypal, Personal Checks, & most Major Credit Cards. I am happy to work within your budget but please let me know in advance if you have one.
7)    Deposits:  For some jobs, I will require payment upfront or a 50% deposit. Payment is due in full before final files can be delivered.
If you are interested in purchasing a customized logo, auction template, website, or print designs please contact me.